Top hotels in Varadero
Ctra. de las Morlas Playa de las Americas
4.3 Miles from the centre
This all-inclusive hotel is located in one of the prettiest holiday destinations, Varadero Beach. All tourist venues are easily accessible. In addition, Havana is 140 km away and it is 290 km to Trinidad. Guests may enjoy the comfort and luxury of this all-inclusive hotel. The air-conditioned property comprises a total of 490 rooms of which 483 are double rooms and 7 are suites. Amongst the facilities count dining and drink facilities, room service and car parking. There is also a playground for children. All of the rooms and suites are fully-equipped as standard including individually controlled air conditioning and a balcony. Leisure offerings include 2 outdoor pools and a hot tub as well as massage treatments. There is also a variety of sport options available for guests.
Show more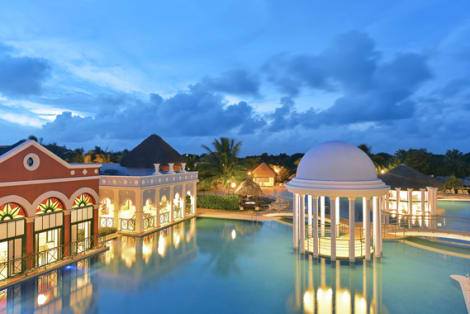 Carretera las Morlas KM17 Punta Frances
9.9 Miles from the centre
Get to know the best of Cuba. The Iberostar Varadero - All inclusive hotel was inspired by the colonial style, a beautiful reflection of Cuban architecture. In addition, located on the stunning Varadero beach, the hotel is surrounded by lush native vegetation and Cuban waters. Furthermore, the hotel is very attentive to Cuban gastronomy and the traditions and folklore of the country: guests can sample the best of the island's cuisine, smoke one of the famous Cuban cigars and dance to the rhythms of its best music. All this invites you to discover the charms of Cuba and enjoy a very authentic holiday. Personal Care in Varadero. At the top Iberostar Varadero - All inclusive hotel, vacations are a complete and satisfying experience. It has a team of professionals which provide the best spa services in Varadero, for both body and mind. A special wedding. Since such a day deserves the best care, the Iberostar Varadero - All inclusive hotel has a wedding planning and organization staff to help you with every detail. The hotel also offers wedding packages and various services for the wedding couple and their guests. Finally, the site where the Iberostar Varadero - All inclusive hotel is located is the perfect setting for a day to remember.
Show more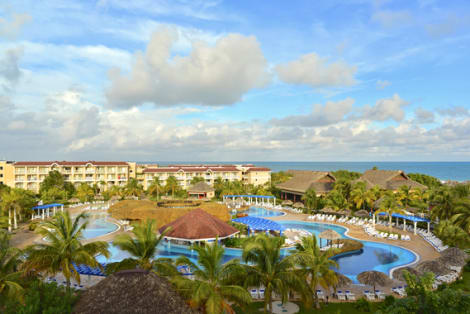 Carretera Las Morlas. Km 18.5, Punta Hicacos
11.1 Miles from the centre
The Best Location in Playa Varadero. The Iberostar Laguna Azul - All inclusive enjoys a privileged seafront location on Varadero's beaches, just 10.6 miles from the city center and 25 miles from the international airport. Crystal clear Caribbean waters and lush, tropical rainforests surrounding the hotel create an unmatched charm that envelops our 5-star resort. Delicious Cuban and International Dining. The Iberostar Laguna Azul - All inclusive Hotel provides guests with an unparalleled dining experience with 15 distinct establishments. Buffets and a la carte restaurants prepare exquisite and elaborate Cuban and international dishes that will please the finest palates. Rest and Relaxation in Varadero. During your Varadero vacation, the Iberostar Laguna Azul - All inclusive strives to please with a full-service spa and wellness program, which includes sauna, jacuzzi, massage, gym, and beauty salon. The hotel's spa is an irresistible delight for mind and body that you can enjoy every day during your stay in Varadero.
Show more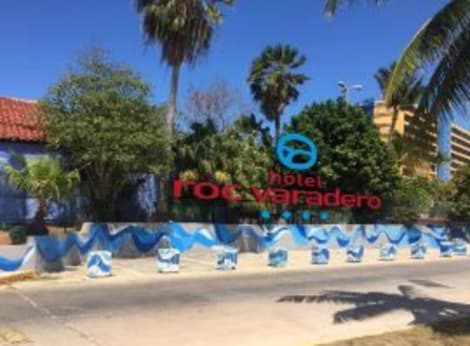 0.5 Miles from the centre
The Hotel Roc Varadero**** is located on the beachfront with beautiful views of the sea and the Paso Malo channel from its rooms. It offers an all-inclusive service on a privileged stretch of beach. Close to the city of Matanzas and the Juan Gualberto Gomez International Airport. Close to the largest handicraft square in Varadero on Calle 13 and to the historic center of Varadero. Being an ALL INCLUSIVE, its majestic towers of 9floors each, offers from the bedrooms, one of the most beautiful views of the Varadero beach.
Show more
2da Ave entre 61 y 62 Varadero. Cuba
3.6 Miles from the centre
Only 2 hours from Havana and 25 minutes from the International Airport of Varadero "Juan Gualberto Gómez", Varadero offers you a dream beach, the ideal place to combine leisure with sports activities. The hotel is located very close to the Resort Barcelo Solymar Occidental Arenas Blancas and the city center.
Show more
Carratera las Morlas, KM 19,5 Autopista del Sur
Estimated price based on searches in the last month
Carretera Las Morlas, km12.5
8.1 Miles from the centre
This All-Inclusive hotel is located at the seashore of Varadero beach. It is ideal for families with children because it has several programs for kids and children's playground. The Hotel has air-conditioned rooms with a private bathroom all rooms include a balcony with pool view, wardrobe and a flat-screen TV. Kid´s club and specialised entertaining (evening entertainment). The hotel is also specialised in weddings and honeymoons. It has 1 buffet restaurant and 4 specialised restaurants, 8 bars, beach ranch, coffee shop, kids mini club, pools for children and adults, Jacuzzi, sport areas and not motorised nautical sports. There is day and night entertaining. 24 hours snacks and drinks service. The nearest airport is Juan Gualberto Gómez Airport, 37 km from the hotel.
Show more
1.1 Miles from the centre
The Hotel Roc Barlovento 4* is located on the beach in the beautiful and famous Varadero beach resort, a few meters from the city center and 25 kilometers from Varadero airport. This spacious Caribbean-style resort has 287 comfortable rooms distributed around tropical gardens, joining in perfect harmony with its natural surroundings, next to a long beach of fine white sand and turquoise waters. Its proximity to the center of Varadero allows customers to easily discover Cuban life style, markets, shops, restaurants, and entertainment venues. The Hotel Roc Barlovento **** offers an exquisite and varied All Inclusive service 24 hrs., With a unique entertainment program.The accommodation is for adults aged +16 year
Show more
Carratera las Morlas Playa de las Americas
7 Miles from the centre
This hotel combines tropical beauty with great services, making it the perfect setting for a romantic wedding and honeymoon or a fun-filled family holiday. In addition, the property is part of the Las Américas Resort complex and is situated near the Varadero golf club and about 35 km from Varadero airport. The air-conditioned hotel comprises a total of 608 accommodations, including 2 disability-friendly rooms. They all come with an en-suite bathroom, satellite/ cable TV and Internet connection. The air conditioning is individually adjustable, and guests can enjoy wonderful views over the sea, the swimming pool, or the lush gardens from their balcony or terrace. Countless recreation options are available on-site- from swimming pools for both children and adults, to massage service and sport activities.
Show more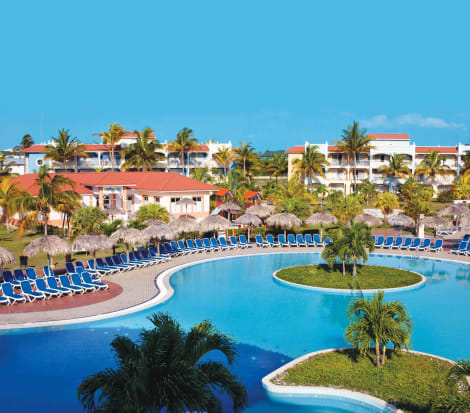 KM 18.5 Autopista Sur Punta Hicacos
10.8 Miles from the centre
Guests of all ages can enjoy exciting activities throughout the day with daily sports activities and evening entertainment. Lounge by the dazzling pools, enjoy a variety of land and water sports, work out at the fitness centre or rejuvenate at the spa. Children will have a great time at our Kids Club, which features a play area with supervised activities and games. The resort also features an adults-only section, Sanctuary at Grand Memories Varadero, for guests over the age of 18. Sanctuary guests can enjoy an exclusive tropical getaway with premium amenities such as complimentary 24-hour room service, butler service, an exclusive à la carte restaurant, pool, and more. Grand Memories Varadero consists of 960 rooms complete with an Adults-Only section. Guestrooms are available in a variety of room categories and come fully equipped with bathroom, hairdryer, 220 V, telephone, central air conditioning, mini-bar, coffee maker, satellite TV, electronic in-room safe, iron and ironing board, balcony or terrace, and inter-connecting rooms (based on availability).
Show more
Ctra. Las Morlas, km 11 Sector Punta Hicacos
7.1 Miles from the centre
The contemporary 5-star IBEROSTAR Bella Vista hotel is situated on the beachfront of Varadero. Its facilities include 4 outdoor pools, a wellness centre, 5 bars, 6 restaurants serving a range of international cuisine, a nightclub, and regular live entertainment. The rooms are decorated in a boutique style with bright furnishings.
Show more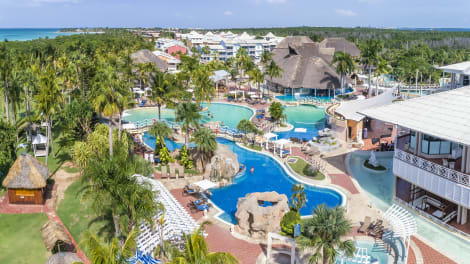 Carretera Las Morlas Km. 15
9.5 Miles from the centre
Royalton Hicacos Varadero Resort & Spa is located on the white sandy beaches of Varadero, situated on the eponymous Hicacos peninsula. Its rich history, and vibrant tourist ambience makes Varadero the perfect background for a tropical adventure where you can explore natural attractions. A picturesque all-inclusive resort, Royalton Hicacos brings guests an authentic oceanfront vacation experience with thatch roof buildings and a property of bridges, small fountains and mature greenery. This luxurious adults-only resort is a cut above other Varadero hotels with its all-inclusive resort facilities designed to create a perfect ambiance for relaxation. This luxury adults-only resort is a cut above other Varadero hotels with its ultra, all-inclusive resort facilities dedicated to the renewal of our guests' bodies and spirits. The main pool is adorned with bridges, waterfalls and a swim-up bar. Furthermore, there are two smaller pools, four Jacuzzis, a spa and beauty salon.
Show more
Cheap Hotels in Varadero
Calle 53 Y Ave 1Ra Varadero
3.1 Miles from the centre
The Hotel Pullman - Dos Mares, like a small colonial style palace, stands out in Varadero due to its special grace and the elegant form of its architecture. Marked by modernity and defined by the aspects of other times, it is a central establishment located a few steps from the seashore. Quiet and comfortable, it offers a pleasant atmosphere with high quality services.
Show more
Estimated price based on searches in the last month
Ave. 1Ra Y Calle 13 Varadero
1.2 Miles from the centre
The popular Hotel Acuazul enjoys a convenient location in Varadero, just a few steps away from the magnificent white sandy beach and the warm waters of the Gulf of Mexico. A large variety of bars and restaurants can be found in the surrounding area. The Varadero Golf Club, Cuba's first 18-hole par-72 professional golf course, and the Plaza America Convention Center can be easily reached. The airport of Santa Marta is just minutes away by car. The hotel offers cosy and comfortable rooms which are simply decorated, and features include air-conditioning, satellite-TV and a balcony. The upper floors enjoy marvellous views over Varadero. Guests can take a refreshing dip in the hotel's outdoor pool or get active with beach volleyball or water sports. The hotel offers two restaurants as well as various bars and pubs where guests can enjoy a drink. This hotel is a great choice for budget travellers in Varadero.
Show more
Estimated price based on searches in the last month
Calle 13 Entre 1Ra. Ave. Y Camino Del Mar
1.2 Miles from the centre
This villa complex is situated just 10 km from the airport, 2 km from downtown Varadero and seconds from what is considered one of the finest beaches in the Caribbean. Water sports such as scuba diving and snorkelling are very popular as there are some beautiful caves to explore and there is also an option to swim with dolphins. Among the places of interest in the area worth visiting are the Acuavida Spa Talaso, the Casa Natal de Mayor and the First Coffee Plantation. Shoppers will enjoy visiting the open markets in the town that offer local arts and crafts. The hotel services and facilities cater for the needs of the guests' and include a buffet style restaurant, a snack bar and a beach bar. The accommodation consists of colonial style, air-conditioned houses, with a simple décor, nicely presented, and furnished with all the modern conveniences needed to make guests feel welcome.
Show more
Estimated price based on searches in the last month
Carretera De Kawama Final
0.5 Miles from the centre
Located towards the end of the road Kawama, one of the most beautiful places of Varadero beach, with great views and the warmth of the waters of this blaneario Punta Blanca is a very quiet, cozy and natural atmosphere.
Show more
Estimated price based on searches in the last month
Carretera Las Morlas Km 14 Matanzas Sn
9.2 Miles from the centre
This hotel is located directly beside Varadero's beautiful beach and lies approximately 40 km from Juan Gualberto Gómez international airport. The dolphinarium, Chapelín Marina and Varahicacos nature protection area are all located in the near vicinity. Guests can also pay a visit to the dripstone caves of Bellamar that lie only 50 km from the hotel. This all-inclusive hotel offers an array of facilities and is ideal for family holidays. The quality rooms are sure to meet guests' standards, each fully furnished with modern amenities, an en suite bathroom and a balcony or terrace. This establishment is sure to provide its guests with an memorable stay.
Show more
Estimated price based on searches in the last month
Punta Hicacos Autopista del Sur
11.6 Miles from the centre
Condominium building providing 5 star apartments providing accommodation services for people who want to combine maximum comfort with privacy and Independence. The proximity to the sea and integration with the nearby services and facilities make them ideal for sailing, scuba diving and fishing, meetings & events, families, weddings and honeymoons, spa and wellness.Near a seafront promenade with shops and a plan for a sporting marina with 1,200 berths, 13 mooring platforms, and a diving and catamaran centre, the 348 apartments are in two condominium areas; the eastern "La Marina¨ and western ¨Vistamares¨ buildings of up to 8 storeys with stunning views of the Hicacos Peninsula.
Show more
Estimated price based on searches in the last month
2.1 Miles from the centre
This vacation hotel is located 1 km from the centre of Varadero City, 25 km from Juan Gualberto Gomez International airport and 250 metres from the beach. It is a spacious complex designed for the needs of families and groups. It offers air-conditioned rooms and one-bedroom apartments, all of which are en-suite with a private bathroom. A safe and a telephone are included in each room and guests can entertain themselves with one of the satellite channels on TV. Apartments also feature a fully equipped kitchenette suitable for the preparation of light meals. The property features a swimming pool and sunbathing area where guests can work on their tan. The hotel has a restaurant and a bar serving premium national and international spirits. An evening entertainment program is available.
Show more
Estimated price based on searches in the last month
Calle 1, Reparto Kawama, Varadero
0.8 Miles from the centre
Built in 1930, this hotel captivates its guests with its elegant architecture and its stunning views over the 3.5 km wide Varadero canal. It is just next to the wonderful beach and 15 minutes on foot from the town, while the Juan Gualberto Gómez International Airport is a short 20-minute drive away. The venue is suited for both leisure and conference tourism as it houses modern conference facilities that can accommodate up to 80 guests. But when it comes to relaxing it is at its best - the outdoor pool with children's section is the perfect place for enjoying an afternoon underneath the sizzling Caribbean sun. Massage services and a sauna are available for those who need a little extra pampering, while the active types can enjoy a number of activities ranging from water-skiing, snorkelling, diving, water polo, windsurfing to Spanish dance courses and even catamaran sailing.
Show more
Estimated price based on searches in the last month
Autopista Sur Km 18 Punta Hicacos
10.7 Miles from the centre
This five-star resort is located in front of the idyllic Varadero beach, surrounded by extensive gardens that include the legendary 500-year-old Patriarca cactus. With a prime beachfront location and surrounded by the ecological reserve Varahicacos, it stands on one of the best sections of beach in Varadero. The hotel features exclusive rooms as well as a wide range of services including theme restaurants and a spa centre. Facilities on offered are currency exchange, boutique and medical centre. There are 2 swimming pools, 2 tennis courts and 2 multisport courts. Room service and laundry service and free private parking are available.
Show more
Estimated price based on searches in the last month
7.8 Miles from the centre
The resort is located in Varadero, at the Hicacos Peninsula in the Matanzas Province at Kilometre 11. This is the ideal place for the sun and beach lovers because it is located in a middle of a dazzling natural vegetation surrounded by 2 different beaches area: one private beach of one kilometer of extension limited by two picturesque mass of rock, in addition to, another excellent beach area. Each section has associated a swimming pool, what makes one of a kind establishment and an unique product in Varadero. At only 8 km from the town of Varadero, at 1 km from the commercial center "Plaza America" and at 37 Km of the International airport "Juan Gualberto Gomez".
Show more
Estimated price based on searches in the last month
AUTOPISTA SUR FINAL PUNTA HICACOS
11.9 Miles from the centre
Estimated price based on searches in the last month
Carretera Las Américas, Reparto La Torre, Varadero
4.4 Miles from the centre
It is a 4 stars All Inclusive, with a variety of options for accommodation (hotel, villas and promo room). It is ideal for a holiday with friends or family. Privileged for its central position between old Varadero and modern, near the Golf Club and in front of the best beach area of Varadero. *** The reservation of the villa does not imply the exclusive use of it.
Show more
Estimated price based on searches in the last month
Hotels in Varadero
lastminute.com has a fantastic range of hotels in Varadero, with everything from cheap hotels to luxurious five star accommodation available. We like to live up to our last minute name so remember you can book any one of our excellent Varadero hotels up until midnight and stay the same night.
We offer big savings on all kinds of hotels in some of the best locations Varadero has to offer so use our search box to find one that meets your requirements. Whether youre travelling with your family, alone or with your partner, we have a superb selection to choose from. Book now and make some great savings - also dont forget our Price Match Guarantee
Frequently asked questions about Hotels in Varadero
What are the most booked hotels in Varadero?
Melia Varadero All Inclusive, Iberostar Selection Varadero and Iberostar Laguna Azul - All Inclusive are some of the popular hotels in Varadero.
What is the lowest price for a double room in Varadero?
The cheapest price for a double room in Varadero is £46, offered by Pullman - Dos Mares.
If I want to stay in the center of Varadero, which hotels shall I consider?
The best hotels near the center of Varadero are Hotel Playa Caleta Salsa Club, Punta Blanca and Roc Varadero Hotel.
120,000 Hotels
We search from 120,000 hotels worldwide to find you the best deals.
Price Match Guarantee
Find the same hotel cheaper within 24hrs when booking with us and we'll give you the difference.
Need help with your booking?
Call us on 0800 093 5555