Where to find London's best ice cream
Summertime is a rare and wonderful anomaly in this city, somehow it always manages to catch us by surprise. Now that we're knee deep in the middle of it, every opportune moment should be taken to break out the sandals and ray bans, and bask in the sunshine. And what better time than to cool off with a few scoops of some of the city's best ice-cream purveyors around, we've updated our top picks.
1. Scoop Gelato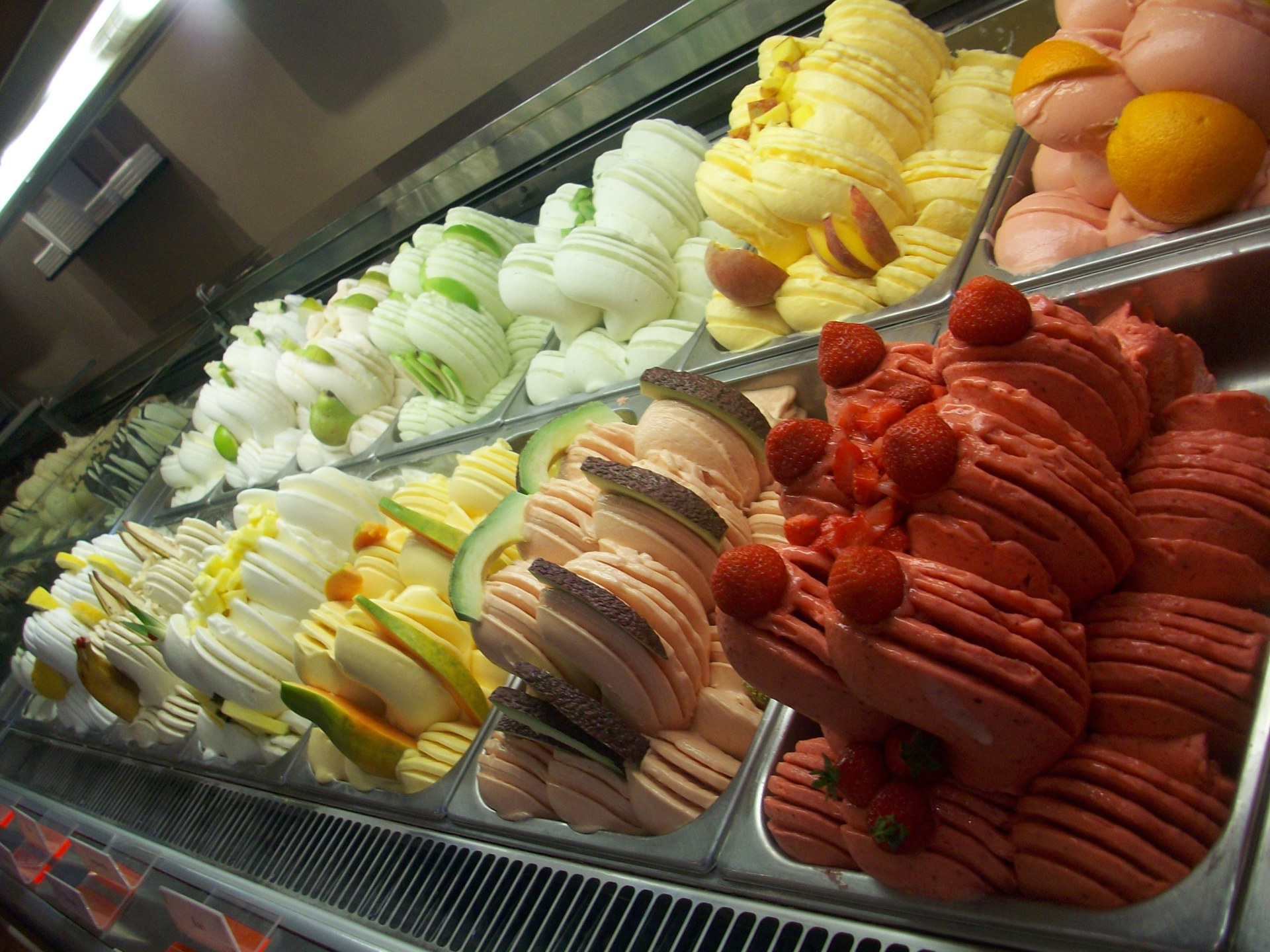 Scoop aims to bring '10 minutes of happiness' to people's lives. These guys are the crowd favourites, serving up super creamy, super whippy gelato which could easily find its place on the streets of Rome. All their ingredients are sourced by their origin from all over the world to make each flavour unique. They make all the classic flavours including fior di latte, stracciatella and crema tradizionale. If you're looking for perfect gelato, this is it.
Signature flavours: Pistachio From Bronte, Chocolate from Ecuador, Cheesecake flavour and Creme Brulee.
Opening times: Sun-Thur: 12pm-11pm, Fri-Sat:12pm-12am
Getting there: Covent Garden: 40 Shorts Gardens, London, WC2H 9AB. Soho: 53 Brewer Street, W1F 9UJ London. South Kensington: 16 Old Brompton Road, SW7 3DL London.
2. Gelupo

selection
Gelupo are started by the good people behind Bocca di Lupo. And what separates them from the pack are the unique flavours such as ricotta, honey and coffee as well as avocado and honey – both of which were great. They also sell frozen granitas and cannoli stuffed to the teeth with pistachio ice cream. The café is brazenly sparkling marble, plus they also sell frozen sauces used at the restaurant.
Signature flavours: Fresh Mint Stracciatella, Hazelnut and Bonet, Blood orange sorbet and Ricotta & Sour Cherry.
Opening times: Mon-Thur: 12pm–11pm, Fri-Sat – 12pm-1am, Sun: 12pm-10pm
Getting there: 7 Archer Street, off Rupert Street, London W1D 7AU
3. Chin Chin Laboratorists
In the mood for something different? Europe's first liquid nitrogen ice cream parlour makes the ice cream custard mixtures to order and then whips in front of your eyes as liquid nitrogen is poured into it. The theory is that since no ice crystals are formed from the instant freezing with liquid nitrogen, that it produces a creamier experience altogether. Owners Ahrash and Nyisha were proud when they were hailed best ice cream parlour in England by The Times after spending years and very long hours perfecting their recipes and innovative techniques.Amazingly they use the same ingredients that Michelin starred kitchens do and for 2 scoops with handmade topping or sauce for only £3.95.
Signature flavours: "Green Grass" and "Strawberry & Hay".
Opening times: Tue- Sun. 12pm-7pm
Getting there: 49-50 Camden Lock Place, NW1 8AF, London
4. Oddono's
Started by Christian Oddonos in 2004, and inspired by his Grandmother's recipe; Oddonos' gelati are now an established part of London.They make fresh gelato out from their artisan shop in South Kensington and are known for utilising a raft of natural ingredients, such as Valhrona Chocolate and Piedmont Hazelnuts.You can also get coffee, hot chocolate and an affogato, which is a wonderful combination of ice cream and coffee together.
Signature flavours: The sorbets are particularly exciting here, mango and strawberries being clear winners, however my favourites from their gelato range are the pistachio and nocciola.
Opening times: Sun-Thur: 10am-11pm, Fri-Sat: 10am-12am
Getting there: 14 Bute Street, South Kensington, London, SW7 3EX. They also have shops in Hampstead, Battersea, East Dulwich and Selfridge's Food Hall.
5. 3Bis

3bis_355
The owners' knowledge, recipes and techniques have been developed over the last 15 years in Rimini, on Italy's Adriatic Coast and they pride themselves on the concept of "Artigianalita'",which translates as "craftsmanship". All the raw materials used to make their gelato, are high quality and most of them come straight from Italy like Pistachio, hazelnuts and liquorice.One of the other things that make their product unique is their continuous production, starting every morning. They only make small batches to keep it as fresh as possible; so if your favourite flavour runs out, you might just have to discover a delicious new one.
Signature flavours: Eton Mess, cookies and cream, peanut butter and Turron, which is based on Spanish Nougat of the same name.
Opening times: Mon-Sat: 8am-8pm, Sun 11am-6pm
Getting there: 4 Park Street, next to Borough Market, London, SE1 9AB and Notting Hill
6. Olivogelo
Need to know:
Belgravia is the place to go if you fancy a Sardinian Sundae. Part of Mauro Sanna's food empire, he also owns four restaurants and a wonderful delicatessen, this charming shop has been a welcome addition to the London ice cream scene since opening in late 2013. The quality Sardinian ingredients make these ice creams sing, and the fact that the Olivogelo staff both make and sell the product, means they take a great pride in their flavours being totally authentic
Signature flavours: Salted Caramel & Chocolate ice creams. The Sardinian Bitter Honey frozen yoghurt is a firm favourite and also the refreshing Mango sorbet and Sardinian tangerine sorbet (when the Sardinian tangerines are available!).
Opening times: Mon-Fri: 1pm-10pm, Sat: 12pm-10pm, Sun 12pm-7pm
Getting there: Gelateria, 28 Elizabeth St, London, SW1W 9RB
Inside scoop
We hope we have included all your favourite ice cream parlours. But if not - please let us know and we can add them to the the best ice cream in London list. Either Tweet us or leave a comment below to tell us your coldest top tips.Warm out? Here's more things to do in London this summer.