The 13 most spine-chillingly scary places on the planet
We're taught terrible tales of haunted houses and places from fairy tales at an early age. But if our appetite for horror films is anything to go by, we love a good fright. And when it comes to travel, a lot of us still want to go and have an eerie experience for ourselves. So we asked 5,000 people* which of the following "scary" places they'd most like to visit in the world. And our spooky survey said...
1. England's most haunted village, Pluckley
There are some places you might want to stay indoors with the curtains shut. And this is especially true in Pluckley, England's most haunted village. This place is more haunted than Hogwarts, with 12 "official" ghosts in residence - including a Highwayman and a Red Lady.
2. The Island of Dolls, Mexico
The beautiful man-made canals of Xochimico (chinampas), near Mexico City were declared a UNESCO World Heritage Site in 1987. However, they harbour a macabre secret. Hanging from the trees of one of the floating islands you'll see the blank eyes of hundreds of decaying dolls staring soullessly back at you, many with severed limbs. According to local legend, the Isla de las Munecas (Island of the Dolls) was created by its caretaker. He discovered the body of a young girl who had drowned, and hung her washed-up doll on a tree to pay his respects. He spent the next fifty years adding to the number of dolls. Since his death in 2001, people have kept the place as he left it.
3. Hashima Island, Japan
Also known as Battleship Island, this creepy, abandoned place popped up as a James Bond baddie's lair in Skyfall. As well as a mine, it served as a brutal prisoner of war camp. It was abandoned so rapidly in 1974 it has an almost Marie Celeste like quality, with the workers just upping sticks. It's also believed to be haunted. You can take a guided boat tour from nearby Nagasaki - don't worry, it's a return trip. If you don't want to visit in person - this website was created using Google Street View (the music's a little creepy, mind you).
Did you know? Just over 14% of people surveyed said they were scared of ghosts.
4. The Tower of London, England
If you fancy a bit of ghost-hunting, here's where the most haunted places are in London - including theatres and tube stations. Of course the Tower of London, being a royal palace, has a distinctly different class of ghosts. Both the Princes in the Tower - that's Edward V (age 12) and younger brother, Richard (age 10) - are believed to have been murdered by their uncle (the Duke of Gloucester, later Richard III) here in 1483. King Henry VIII also did away with his wife, Queen Anne Boleyn, at the Tower in 1536. The most bizarre ghost sighted here is that of a bear. The poor Beefeater who clocked sight of him near the Martin Tower dropped dead of fright.
5. Catacombs of Paris, France
'Skulls as far as the eye can see' might be a fair description of Paris' famous Catacombs (their alternative name of Municipal Ossuary is a lot less evocative). This underground labyrinth houses the young from the original Cemetery of the Innocents. We're not saying it's scary - but people of a nervous disposition are advised not to head down there. Visiting here is one of our favourite things to in Paris when it rains - and it's a good option if you're doing a day trip.
DID YOU KNOW? The "welcome" message at the entrance "Arrête, c'est ici l'empire de la mort" means "Halt, this is the realm of Death"
6. Edinburgh Castle, Scotland
Scotland has its share of spooky sites, what tith all its isolated castles (like Fyvie Castle and Glamis Castle) and bleak abandoned battlefields (Culloden). But the historic city of Edinburgh is supposed to be the most haunted in Europe. Visitors to Edinburgh Castle have claimed to have paranormal experiences, with musicians particularly fond of reappearing (there's been sightings of ghostly pipers and drummers). Make sure you go on a Edinburgh ghost tour when you visit. Haunted places to tick off the list include creepy cemeteries and underground vaults.
FACE YOUR FEAR: Just over 12% of people surveyed said they were scared of flying.
7. Australia's most haunted house, Monte Cristo Homestead
As anyone who's watched a horror film knows, nothing good comes from buying an abandoned home in the middle of nowhere. However in this case, the owners of the Monte Cristo Homestead (just under three hours drive from Canberra) managed to transform a Victorian house into a popular tourist attraction. The Ryan family have lived there since 1963, and have been haunted by the previous owners, a stable boy and a pregnant maid among other spooky visitors. If you fancy joining them, you can stay the night, or just take one of the Saturday ghost tours.
8. Castle of Good Hope, South Africa
The Casteel de Goede Hoop (1666) is the oldest building in South Africa. As a fort and prison, it's got hundreds of years of history and hauntings behind it - so go take the tour. The former Governor, Pieter van Noodt, is supposedly cursed to roam the castle walls, and a big, black dog is said to greet visitors before disappearing into thin air.
9. America's most haunted house, The Myrtles Plantation, Louisiana
We love somewhere scary where you can stay the night. And there's plenty of things that could go bump in the night at the Myrtles Plantation. Chief among the ghosts is the Legend of Chloe - the ghost of a slave who appeared in 1992 on a photograph taken for fire insurance purposes (imagine being a fly on the wall during that claim meeting). They've also got another ghostly girl apparition at a window in the house - both captured on camera.
10. Brocellande Forest, France
Anywhere that's near a place called the Valley of No Return (Val Sans Retour) should be considered with care. Throw in a little magic - Merlin was apparently imprisoned here in a stone - and you've got the makings of a truly frightening forest. The Forest of Brocéliande is known as King Arthur's Forest, and Morgan Le Fay (the King's half sister) used the area to capture unfaithful youths.
11. Transylvania, Romania
While the rest of the world reveres the legend of Dracula and all things vampiric, in his homeland - it's not so much the case. He's almost treated like an embarrassing uncle at a wedding. However Vlad the Impaler's homeland (the man the Count was based on) is fairytale-like beautiful so well worth visiting, bloodsucking aside.
12. Hell Fire Club, Ireland
Halloween was said to have been invented in Ireland, so it's fitting we include somewhere in the Emerald Isle. Montpelier Hill near Dublin is where you'll find the supposedly haunted ruin of a hunting lodge. Built in 1725 by parliamentarian William Connolly, it was originally built as a site for the Dublin branch of the Hell Fire club. Take a torch and take a night-time guided tour of the hilltop and lodge - just don't look behind you. They've also got some Hell Fire Caves in England - High Wycombe to be precise. They are believed to have been built in the 18th century as the original home of the Hell Fire Club for carousing aristocrats, authors and artists.
13. Poveglia Island, Italy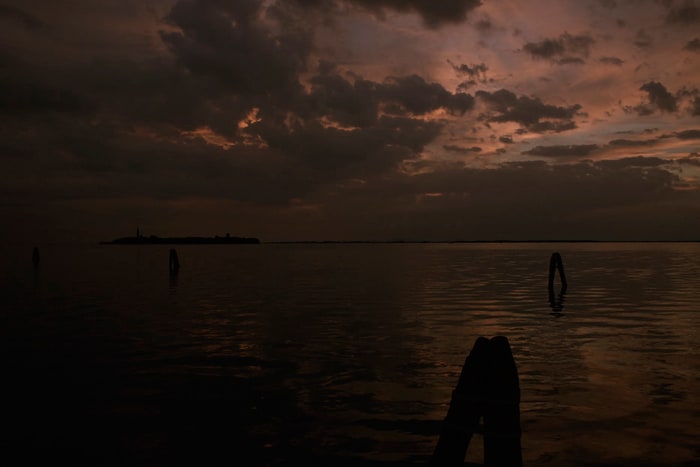 An island that once housed an asylum, a quarantine station and was a mass burial ground for plague victims doesn't sound the most enticing. It's been described as a real life Shutter Island - however it is on a Venetian lagoon - so at least you'll have lovely Venice to visit next door.
FACE YOUR FEAR OF THIRTEEN: There's a reason we've left Italy until last. While in many countries the number 13 is considered unlucky - quite the opposite is true here. Especially when it comes to gambling. The number 17 on the other hand...*shudder*.
Want to celebrate Halloween somewhere else?
Head to Ireland, where Halloween was invented, or try the USA where the event is almost as big as Christmas - here's our guide to how other countries celebrate Halloween. We'd also love to know if you'd be brave enough to visit any of the places on our spine-chilling list. Let us know where you would dare to go, by leaving a comment below.
*5,000 people too part in the survey, 1,000 each in UK, France, Germany, Spain and Italy